Summer 2022
Wednesday, June 1, 2022 by Tricia Hexter | Uncategorized
Happy June 1st! As the school year winds down, we are gearing up for some great summer learning at GPI4L! Our classes, dates, and times are posted on our website. We will hopefully be including a few more options as we get rolling, but we are excited to make this summer amazing!
Our Kindergarten Readiness Classes begin NEXT WEEK! They will be held on Tuesdays and Thursdays beginning next week. There will be 7 weeks of this class and you won't want to miss it!
We have added a Multiplication Games Workshop that will be tons of fun! This is for any age student who needs to master their facts! We will play all sorts of different games and learn some cool tricks to help make practicing their facts FUN!
Of course we have "Get Ready for ___ Grade!" classes that will include both math and ela.
We will also be offering a class on Executive Function that will taught be a Speech and Language Pathologist. The dates and time will be announced soon! Stay tuned
I won't list them all here, but just wanted to give you a little idea what's over there. Of course we will still be offering private sessions, as well, so please inquire if you are interested in those. Here's a quick link to check out the classes Summer Class Offerings.
If there is something you don't see, please let us know! We are building programs for YOU and want to serve you the best way we can! We are always open to suggestions!
Looking forward to a great summer ahead,
The GPI4L Team
Mask Update
Tuesday, February 15, 2022 by Tricia Hexter | Uncategorized
Due to Wayne County's lift of the mask mandate, GPI4L will now be mask optional. GPI4L will still follow the same disinfecting protocols we have used since day 1 to ensure that our environment and materials are free of any germs and viruses. If you have any questions please feel free to reach out to us. Thank you!
PreK Classes are Expanding!
Thursday, February 3, 2022 by Tricia Hexter | Uncategorized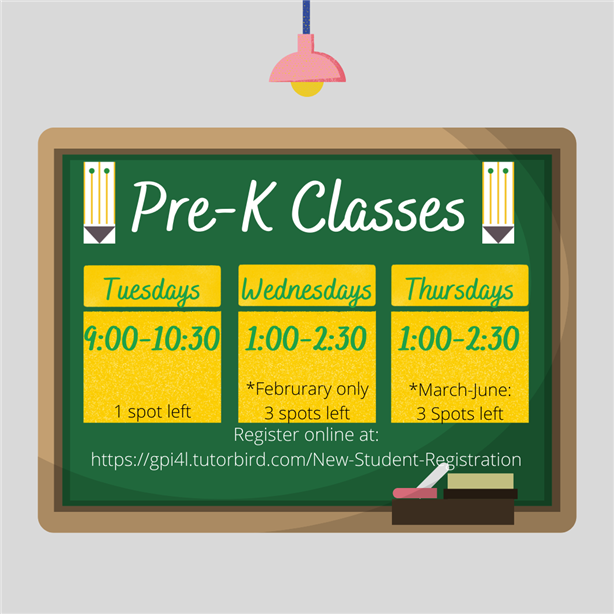 HAPPY SNOW DAY! I hope you are all enjoying the days off! We have been busy over at GPI4L as construction is still underway in the back building and we prepare to add more classes. We have now added an afternoon PREK class. It will be on Wednesdays for the rest of February and then it will change to Thursdays beginning in March. The numbers have already changed since I posted this image, so there are only 2 spots left in the Wednesday and Thursday classes and 1 spot left in the Tuesday morning class. If you want to grab those spots, do it quickly so you don't miss out!