New Class for Grades 6th-8th!
Tuesday, December 7, 2021 by Tricia Hexter | Uncategorized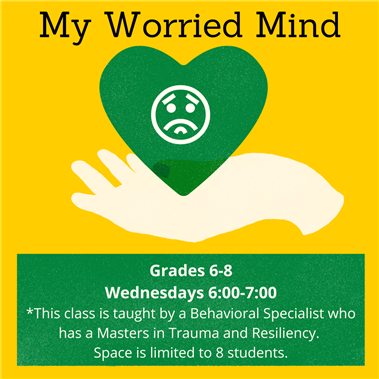 We are so excited to announce the much needed class called MY WORRIED MIND. It is normal to feel worried. We all have worries about things that have happened or will happen. It is important to know what our worries are and recognize the signs and feelings that come with worry and anxiety. In this class, through writing, drawing, stories and conversation, students will learn how to recognize the worry, how it feels and the response that comes with it. Students will learn how to respond to the worry to feel empowered and resilient. Students will be exposed to tools for managing worry and come away with a visual toolbox representation of their own worry warrior tools.
When: Wednesdays, 1/5, 1/12, 1/19, and 1/26
Where: GPI4L 18164 Mack Ave, GP
How Much: $240 ($60 per session)
Who: This course is taught by Aimee Miller. She is a Behavioral Therapist who has a Master's in Trauma and Resiliency along with a BA in education with a major in Emotional Impairment. She has also done graduate work in behavior intervention in autism.
For: Any student in grades 6th-8th.
*Additional classes will be added based on demand. This class will be limited to 8 students. If you are interested in this class, but your student is not in 6-8th grade, please send us an email at gpinstituteforlearning@gmail.com with the grade level you are interested in having this class for. We do plan to add classes for upper elementary (3rd-5th) and high school (9th-12th).
*Classes will continue in February based on demand.